Audio processing module with SHARC, stereo audio, and S/PDIF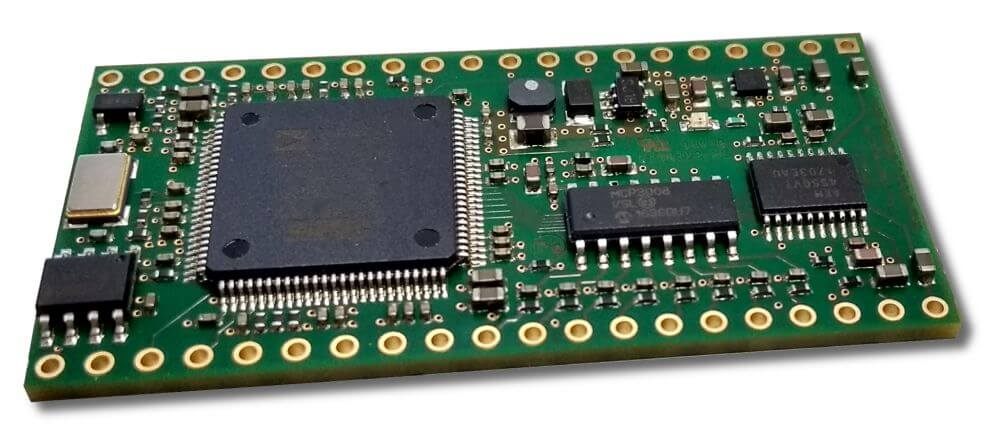 The SHARCaudio module is a very small, low-cost, audio processing system which can be operated in stand-alone or embedded applications. It comes with a powerful 200MHz (266MHz optional) SHARC DSP and a 24-bit stereo audio codec (> 100dB dynamic range) with line-in and line-out channels, an S/PDIF interface, I²C, UART and SPI for best connectivity. The built-in S/PDIF interface allows to mix sources from the analog and the digital domain. With a size of only 1.0" x 2.0", the board will fit every embedded application. Widely used 100 mil (2.54mm) pin headers are used to connect the module to a target board. With no components on the bottom side and extended pads, the module can also be soldered directly onto the base board. A break-out board and a miniBSP are available for development purposes to get your project started quickly.
Applications
The system was designed for use in high-end sound processing applications such as equalizers, feedback suppressors, limiters, effect processors, exciters and other studio and stage equipment. The module can also be used in modem, speech processing, echo cancellation, and other demanding signal processing applications.
Control Interfaces
The DSP can be controlled via its UART, I²C or SPI interface. These interfaces may also be used to control a keypad or an LCD display. An auxiliary 8-channel A/D converter can be used to control parameters using analog inputs rather than via a micro-controller. All special function pins (eight total) can also be used as general purpose I/O pins. Two FLAG pins are software programmable as either input or output.
Specifications:
DSP: ADSP-21478 @200 MHz (266 MHz as an option)
Codec: AKM AK4556 (24 Bit, fs = 192kHz max.)
Interfaces: UART, SPI, I²C, S/PDIF, Stereo In/Out, 8-channel ADC
Size: 1.0" x 2.0" (1/2" height)
Pin Pitch: 100mil