OFDM Socket Modem for home automation, video, intercom, security applications - cOSMo Lite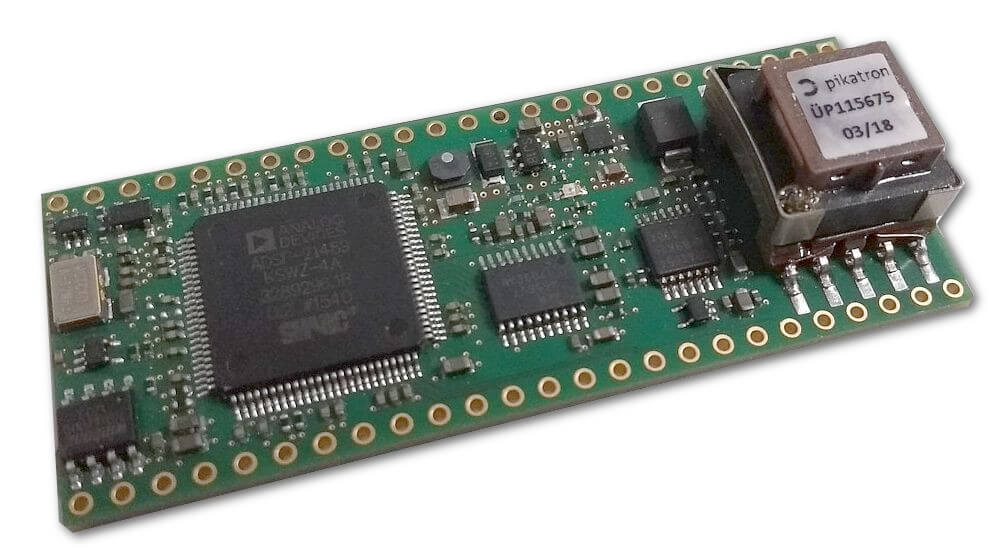 cOSMo Lite is a new low-cost, robust socket C-OFDM modem for embedded applications based on Analog Devices SHARC technology. It features exceptional reliability in problematic environments and very quick synchronisation. cOSMo Lite enables data rates of up to 1000 kbps across simple twisted-pair, co-ax and power cables that may be several miles long. Unlike our cOSMo socket modem, cOSMo Lite does not have a companion FPGA. cOSMo Lite has been designed for lowest cost and smallest footprint and fits many embedded applications.
No matter whether in a Point-to-Point (PtP) or Point-to-Multipoint (PtmP) topology, the modem particularly qualifies for use in existing infrastructure such as front door communication systems. Other applications are found in the IoT, chemical industry, agriculture and renewable energies.
cOSMo Lite can easily be integrated into your embedded system. Alternatively, the hardware design and the modem code can be licenced for direct integration into your platform.
More information can be found in the datasheet.
Please, contact us to discuss your project.