ARM, DSP & FPGA Boards, Tools & Algorithms, Systems for Board-Level Tests

DSL (OFDM) Modem Data Pump for Industrial Applications 'CosmoDP'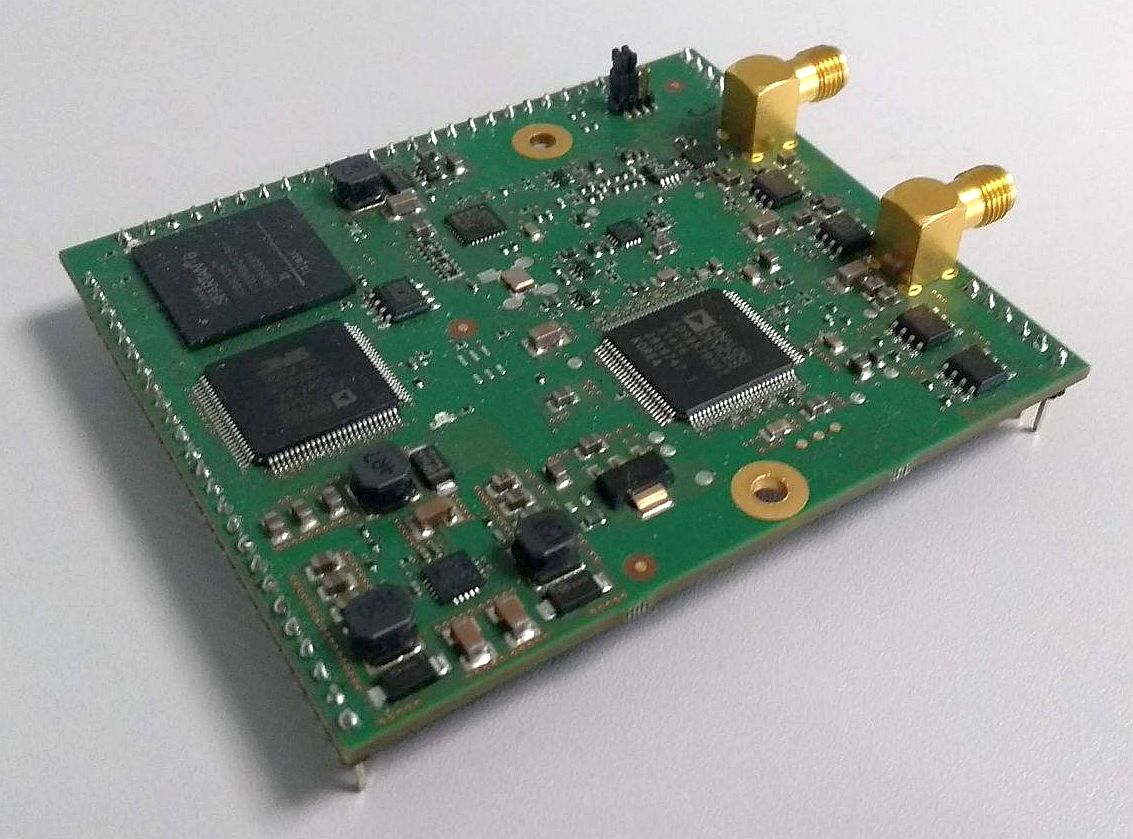 We have developed an OFDM modem data pump which is more flexible than any other such data pump available. CosmoDP can be used in every type of environment as long as there is a cable of any kind available. High voltage lines and twisted pairs, industrial power cabling and co-axial wideband cable are suitable. Different topologies are feasible (Point-to-Point, Point-to-Multipoint, Broadcast) as are wireless links.
Most notable is the extremely high channel efficiency which yields up to 10.7bits/Hz/sec.
Achievable data rates exceed 5Mbps based on a channel bandwidth of up to 500kHz, while the center frequency is software selectable between 15kHz and 100 MHz. Time or Frequency Division Duplex (TDD and FDD, respectively) are configurable in symmetric, asymmetric, full duplex and half duplex modes.
CosmoDP is available as a complete pre-configured embedded module, as a chip set for integration and as licensable code for Analog Devices SHARC processors. Backend interfaces include UART, SPI, I²C and SSC to provide flexible communication with any type of microcontroller. Up to twelve I/O pins are available on the supporting Spartan-6 FPGA allowing the user to implement additional control functionality.
Power consumption: 400mA from 12VDC
Input Voltage Range: 9VDC ~ 28VDC
Size: approx. 9cm x 9cm (3.5" x 3.5")
More information is available on request.
SMARC i.MX6 System-on-Module

The IGEP SMARC iMX6 is an industrial low-power system-on-module (SoM) based on Single, DualLite, Dual or Quad core NXP i.MX6 processors clocked at speeds up to 1200MHz.
These modules enable system architects to implement a passively cooled system, ideal for portable and stationary embedded devices. For inquiries, please use our contact form.
Detailed technical information is available at the manufacturer's website.
ARM, DSP & FPGA Consulting and Development Services
Our focus: Systems, services, hardware and algorithms for your DSP and FPGA applications. Whenever you are looking for assistance in your project, we are the team of experts to streamline your project.
Since its inception in 1995, our company has been located in city of Düsseldorf, Northrhine-Westphalia, Germany, in the heart of Europe. All team members are from this region and virtually die to deliver exceptional labour every day. We are proud to serve customers who engaged with us many years ago.
ARM, DSP & FPGA Hardware Products

Besides numerous DSP algorithms for speech compression and enhancement, such as echo cancellers, we have developed a number of neat embedded products for high performance computing and communication:
System-on-Modules, JTAG Emulators, Products for Board Level Tests and In-Circuit Programming
Furthermore, we represent renowned international companies, offering high performance, excellent quality products for signal processing applications and development:
For information on
Critical Link
ARM, DSP and FPGA modules (MitySoM, MityDSP, MityFPGA), please, go to
www.criticallink.com
or click the logo on the right.
For information on Blackhawk Emulation products for use with Texas Instruments Code Composer Studio, please, go to www.jtag-tools.de or click the logo on the right.
For information on Corelis Boundary Scan products, used to verify hardware products during development and production, please, visit www.corelis.eu or click the logo on the right.
Quality Management
Our quality management has been certified per ISO9001-2015. We not only promise the outstanding technical quality, we comply with the standards demanded per ISO9001.
For more information on any of the mentioned product lines, please contact us:
DSP Systeme GmbH (formerly A.R. BAYER DSP Systeme GmbH)
Vohwinkelallee 8
40229 Düsseldorf/Germany
Phone: +49 - 211 - 271 46 30
Fax: +49 - 211 - 210 81 76
Contact Form